Chris Paul is head and shoulders the best point guard in the NBA. He can dish the ball better than Westbrook, is superior defensively compared to Rose and can score at will when asked to do so. Through his first seven NBA seasons CP3 has averaged at least 18ppg, 9apg, 2spg and 4rpg. The only other point guard to accomplish that same feat is Magic Johnson, whom many regard as the greatest to ever play the position. Paul is also the only player ever to lead the league in assists and steals in consecutive seasons (07-08 & 08-09).  Putting stats aside, Paul is a floor general on the court and carries himself like a pro's pro off it. He dictates the flow of every game and contains the same competitive spirit fans saw in Isaiah Thomas. CP3 runs the pick and roll effectively, throws the best lob pass in the game and plays closer when his team needs him most (see video below). Paul has a knack for making others around him better, something the aforementioned Westbrook and Rose need to learn.
(go to :30, then :45. keep an eye on Coach K for a good laugh too.)
Paul is the cross of a point guard, basketball pioneer and walking savior. He revived basketball at Wake Forest (since his departure the Demon Deacons just haven't been the same). The Hornets were relocated to Oklahoma City post Hurricane Katrina and Paul's brilliant style of play packed OKC's arena, thus proving the city was NBA worthy (Am I saying CP3 can be blamed for the Sonics move? That's for you to decide. Just throwing it out there). If the Hornets never drafted Paul there's a good chance that franchise may be playing games elsewhere today. Most recently he made the Los Angeles Clippers into something to see which last happened… well never. With all that being said he's missing one thing on his resume, an NBA championship. We are all aware of the old NBA adage, "All the greats eventually get it done." But Magic and Isaiah are the only point guards to be the best player on a championship team post merger. Both those guys played alongside numerous Hall of Famers and perennial All-Stars. The best players Paul has played with are Tyson Chandler, David West and Blake Griffin, who by no means are anywhere close to Worthy, Kareem and Dumars. Is Paul capable of carrying a team to a championship? Maybe… but the fact that NBA fans can even debate this is remarkable in its own right. CP3 is 27 years old and a two-time Olympic gold medalist who's just entering his prime. The upcoming season presents a crossroads for Paul considering he is set to become an unrestricted free agent next summer. Will he have to leave LA to chase a title? Where could he possibly go? Let's now take a look at possible Chris Paul free agency scenarios.
New York: Paul has expressed interest in joining the Knicks already twice before. Had the Knicks held off on signing Tyson Chandler last December and convinced the Hornets to take on Amare's contract and questionable knees, Paul may have been a Knick today. A lot has changed in the Big Apple since then… Linsanity has come and gone and the Knicks have replaced Lin with Raymond Felton and Jason Kidd.  New York has zero financial flexibility, so acquiring Paul would require an unprecedented sign and trade 3-team blockbuster deal involving Stoudemire and his heavy baggage. To put it nicely, the odds of the Knicks front office being able to pull this off are 100/1. (If this trade does happen, the odds of David Stern vetoing it for "basketball reasons" are 60/1)
Atlanta: Let's all jump back into our NBA time machines and travel back to draft night 2005. Former Hawks GM Billy Knight was smoking some potent weed when he chose UNC Freshman 6th man Marvin Williams ahead of Paul and Deron Williams. Knight said he loved Williams's height, wingspan, and upside. Note to NBA GMs: Take the collegiate star over the player with untapped potential. Seven years later, new Hawks GM Danny Ferry has cleared enough cap space to make a run at both Chris Paul and Atlanta native Dwight Howard. Does CP3, Dwight, and Josh Smith sound fun to you? Sure it does, but who honestly expects Howard to leave the Lakers? If Paul does join the Hawks without Howard you can bet All-Star Center Al Horford will remain with the squad. But would that team bring Chris Paul closer to a title? Probably not.
Dallas: The Mavericks are coming off of their worst offseason in the Cuban era and are determined to become an elite title contender. After losing out on Deron Williams, the Mavs will have plenty of money to spend in the summer of 2013. Cuban has made it clear that if Dwight Howard tests the market the team will target the big man. Perhaps Dallas could shed more cap space and chase CP3 as well. Dirk + Dwight + CP3 = a championship threat but if we've learned anything from this past year it's do not rely on Dwight Howard for anything. Take away Howard and a CP3-Dirk combo is in no way a better option for the future than a Paul-Blake Griffin one.
LA Lakers: Just Kidding. Steve Nash plans on playing out his three-year contract. What if King David never vetoed the infamous trade? Where are Bynum, Howard, Anthony Davis, and Iguodala playing basketball this season? We'll save this discussion for another time.
One other quick note: I listed two possible cases where Chris Paul and Dwight Howard can team up to win not 1, not 2, not 3, not 4 championships. Why did Orlando not aggressively pursue Paul the last two years?
LA Clippers: We can all understand why Chris Paul wants to test free agency. No superstar has ever invested long-term with the Clippers. But this is a unique situation because one of the league's best young stars has already inked a five-year deal to remain with the club. Blake Griffin and Chris Paul reached the second round of the playoffs in their first year playing together. The Clippers will for sure need to add better players to make them into a title contender. But if CP3 and Blake on the roster, the Clippers will be an attractive free agent destination for years to come. Also the Spurs and Kobe Bryant will only be around for a few more seasons, leaving the Western Conference open for the Clippers and Thunder.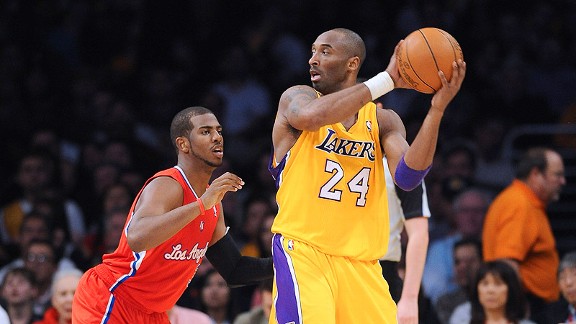 If you asked me today I would say resigning with the Clippers is Paul's best choice, but we'll see how the year plays out. Just know we are watching someone who will likely go down as a top ten player at his respected position. Let's appreciate what Chris Paul brings to the hardwood this season in a year that will undoubtedly help decide his future.